Art that asks, "What's it like to be you?"
"Phillips' imaginative watercolors, shifting perspectives and whimsical cartoons set just the right tone, conveying the tragedy's pain and resolution without sentimental pathos."
- Star Tribune art critic Mary Abbe
Suicide Survivors' Club
2022-2014
Winner of a 2022 Minnesota State Arts Board grant
Winner of a 2019 Minnesota State Arts Board grant
Winner of a 2017 Midwest Book Award
Artist books first exhibited at St. Catherine University then produced commercially and distributed by National Alliance on Mental Illness (NAMI) Minnesota.
Also became five Story Portrait workshops for suicide loss survivors and mental health professionals.
Four artist books document a family who experienced the suicide of their husband/father. Each family member's story is told in short sentences graphed onto the page as the ups and downs of the healing process. A fifth book, Parenting the Suicide Survivors' Club, is written by the mother, Rebecca Anderson, accompanying images by Laurie Phillips.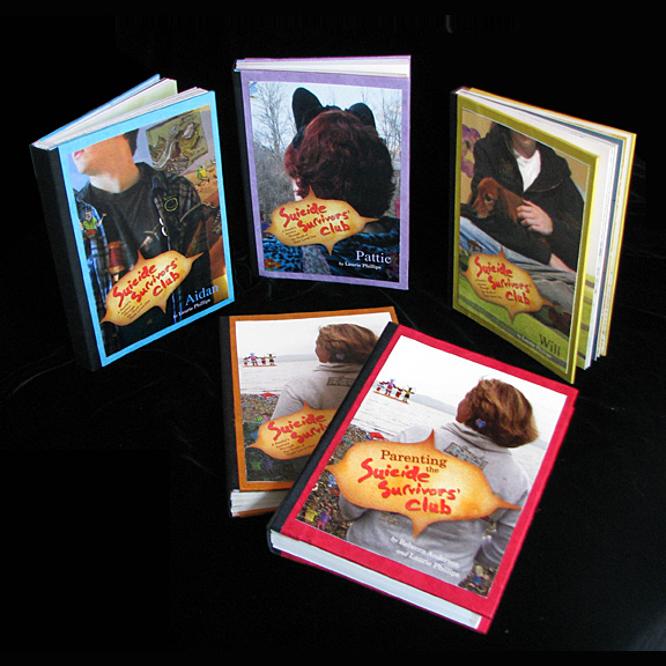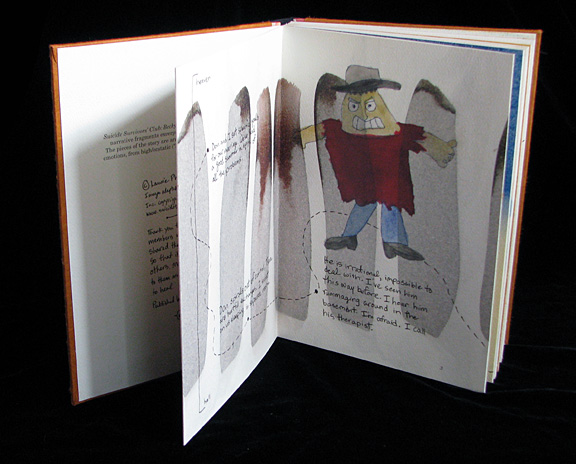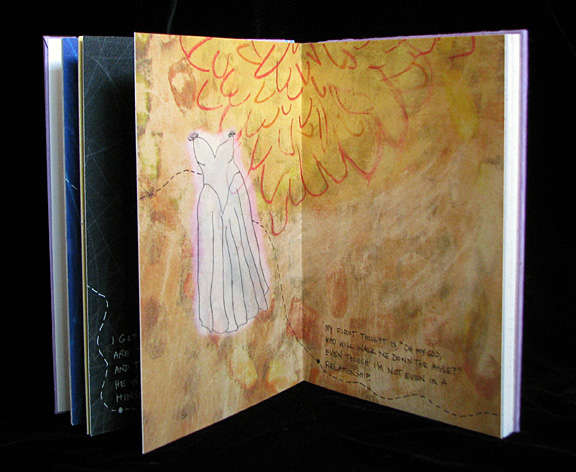 Our Homeless Teens
2011
This 8' x 4' story portrait of a homeless teen was displayed at the Minnesota State Capitol Building for a week before a major budget vote to bring awareness to MN legislators about the importance of funding the agencies that serve homeless teens. There was an accompanying book that was hand-delivered to 50 legislators in their offices. The vote passed.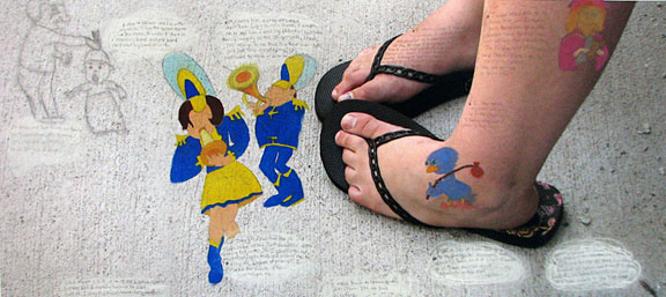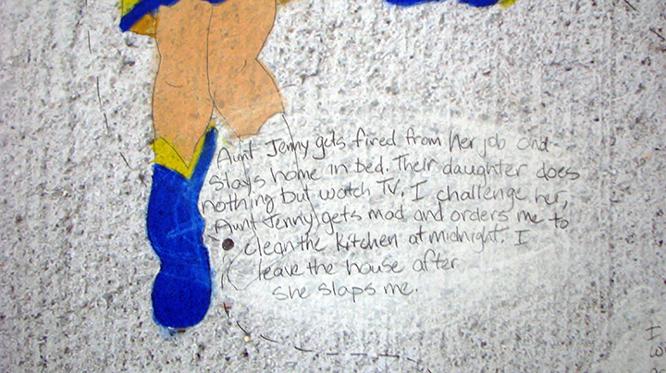 Medical Portraits
2010
Inspire Arts Gallery, Hennepin County Medical Center Hospital. Two 8' x 4' Story Portraits, one of a woman recovering from breast cancer, the other about a woman with an eating disorder, were shown as part of an Arts in Healthcare citywide celebration.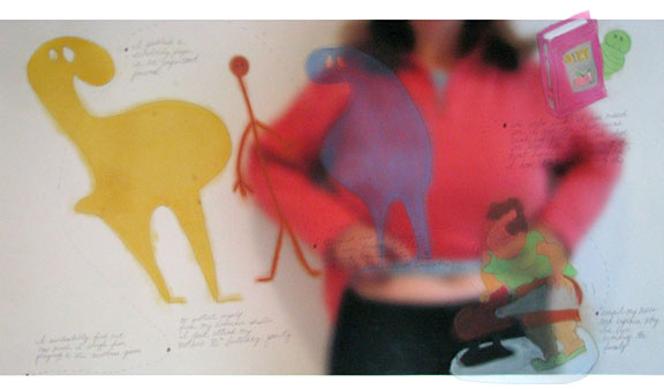 Forecast Public Artworks Research and Development grant
2008 - 2009 (artist-rendered photo)
Winning this Research and Development grant resulted in understanding how to take the Story Graph Portraits out of the gallery and turn them into durable outdoor pieces using materials like laser-etched stone and digital photo-imaged ceramics.
Doing outdoor installations in and around educational institutions, public parks, and health care facilities have become real possibilities in furthering a vision of using public art to help people in these institutions recognize, share, and cope with difficult emotions. It also opened up a relationship with new collaborators: architects and landscape architects.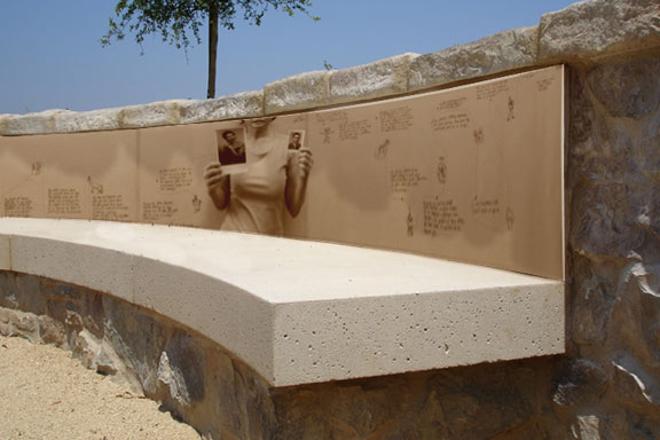 Story Graph Family Portrait

April 2011, 2010, 2009, 2008 SAVE.org memorial event
June, 2007 Minneapolis College of Art and Design
The Story Portrait Family Portrait was the precursor to the Suicide Survivors' Club books.

Electronic Literature Generator
2000-2022
FORECAST Public Artworks / Jerome Foundation grant.
Open Book Literary Center, Minneapolis. 9' x 6". Collaboration: Jon Spayde.

The Electronic Literature Generator is a surrealist word-art piece consisting of three LED signs displayed in a row on the wall: the first sign displaying nouns, the second displaying verbs, the third displaying more nouns. The words were solicited via a ballot box in the lobby of the Open Book center.
The signs always make a sentence but the sentence is constantly changing due to the time-based graphic display. The ELG succeeded in expanding the literary sensibilities of the Open Book Literary Center into the surreal and playful.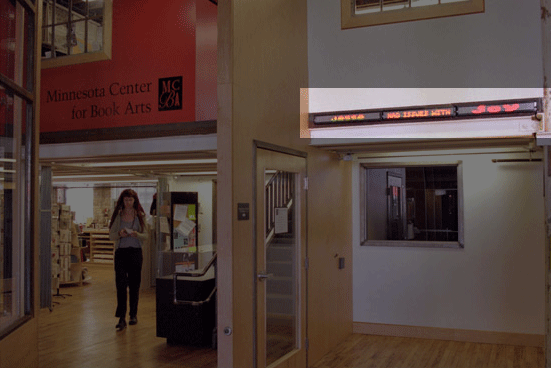 Big Friends
1999-2000
Friends School commission, Friends School, St. Paul.
Two weeks, December 17-January 1. Collaboration with Mary Cayan.
I worked with 125 elementary school children on how they want the world to see them. Their personality was revealed in a pose they came up with. I traced their pose as a silhouette that was much larger than their real size.
We transformed their two-story school into a giant night-light by covering each of the school's 124 windows with opaque black paper, cutting out students' oversized silhouettes from them and replacing the holes with white translucent paper.
The building lights remained on for two weeks, causing the children's giant shapes to glow in "friezes" like figures on Greek pottery, illuminating the neighborhood with their presence.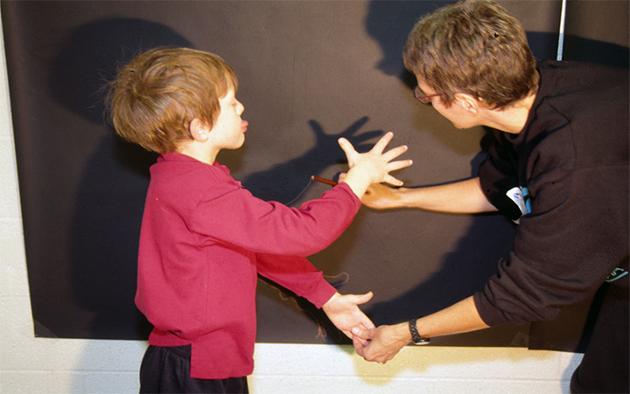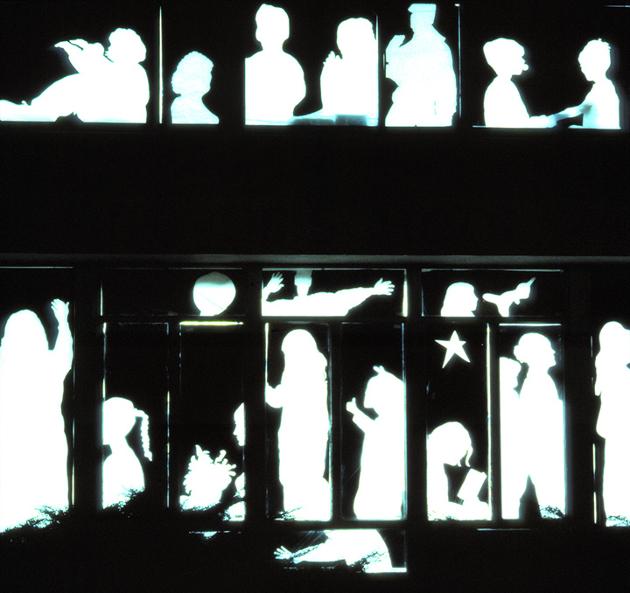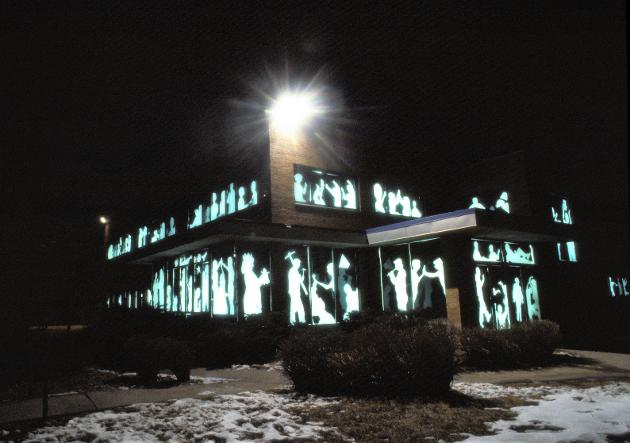 Big People
1996
FORECAST Public Artworks grant installation at Cedar-Riverside People's Center bell tower in Minneapolis, four hours per night for a month.

I spent a year at a community center that was also a low-income health clinic and veterinary clinic. I photographed and interviewed the people who used and staffed the center.
Portraits and quotes from them were projected onto cloth covering the large openings in the bell tower. As the wind moved the fabric in and out, the people and animals seemed to breathe.
Using images and texts about the positive and negative effects of belonging to groups and communities was a gesture towards transforming a dull city block into a site of controversy, beauty, and public spirit.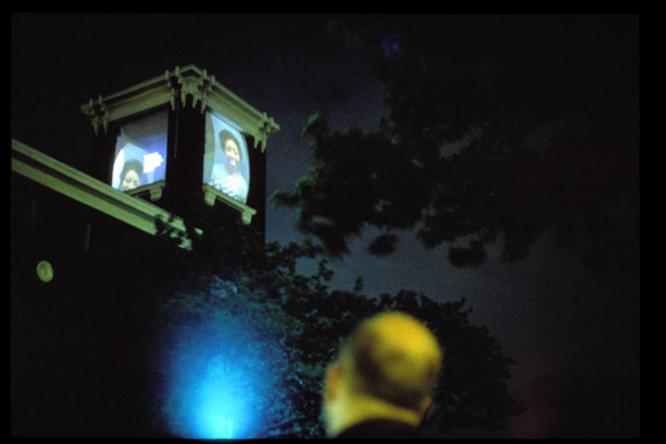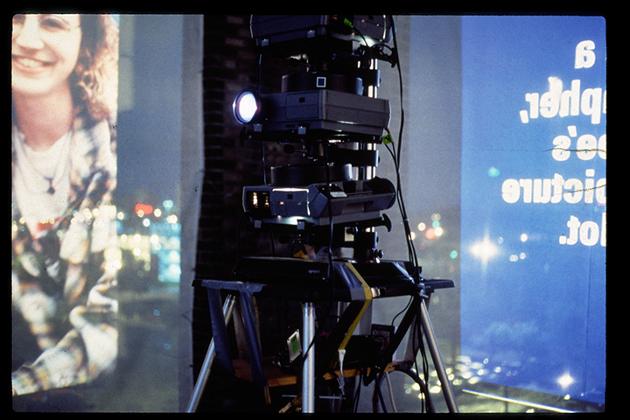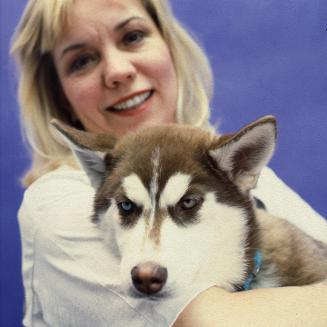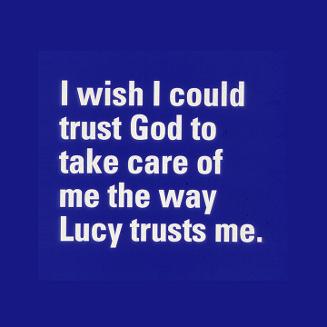 Big Women

1998
Weisman Art Museum-commissioned installation, University of Minnesota, Minneapolis. Three hours a night, July 11-13, Collaboration with Siddiqi Ray.

Using eight computer-driven projectors on the lawn of the University of Minnesota's Weisman Museum, a 20-minute looped slide sequence of 24-foot-tall nakedwomen made of light was projected.
The models turned cartwheels, dived off the top of the museum, and climbed around the complicated aluminum facade of the eccentric Frank Gehry building.
In playing over the building's surface, the female forms were also playing with the boundary between inside and outside the museum, coming to life at night and enjoying themselves as free subjects, not art objects.